As part of UDOT's vision to Keep Utah Moving, the I-15 South Davis Improvements project will reconstruct the interchanges at 2600 South in North Salt Lake/Bountiful and at 500 South in Bountiful/West Bountiful. The animations below detail the coming changes and provide information for drivers on how to navigate the new interchanges.
WATCH THE 36 HOUR 500 SOUTH DDI CONVERSION ON JUNE 13-14 IN LESS THAN 3 MINUTES
UDOT – 5th South DDI Time Lapse from UDOT on Vimeo.
---
The Utah Department of Transportation (UDOT) is working to improve mobility on I-15 and east/west corridors in South Davis County to meet current traffic needs.
The I-15 South Davis Improvements project will:
• Build new ExpressLanes in both directions from the north I-215 interchange to U.S. 89/Park Lane in Farmington.
• Replace aging bridges at 2600 South, 1500 South, 500 South, and 400 North.
• Reconfigure the interchanges at 2600 South and 500 South in Bountiful to improve east/west mobility.
• Improve active transportation with better pedestrian facilities at 500 South, 400 North and Parrish Lane.
The I-15 South Davis project will achieve a major milestone this weekend by opening the new 500 South interchange in Bountiful in its new configuration. Please be aware that the 500 South interchange under I-15 and associated ramps will be closed this weekend, from 6:00 p.m. Saturday, June 13 until 6:00 a.m. Monday, June 15.
• I-15 traffic should use 2600 South or Parrish Lane as alternate interchanges. Local traffic should use 1500 South or 2600 South as alternate routes. Legacy Parkway will be open to all vehicles during this closure.
• When the interchange reopens by 6:00 a.m. Monday, June 15, it will be in its new diverging diamond pattern. Please pay close attention to signs and striping. Crews will monitor traffic flow in the area and make adjustments to signals as needed through mid-June. See below for more information on the new interchange function.
• The 500 South interchange in Bountiful will function very much like the Pioneer Crossing Diverging Diamond Interchange (DDI) in American Fork, except that the DDI in Bountiful will be under I-15. The animation below details the final configuration of the 500 South Interchange and provides information for drivers on how to navigate it.
2600 South from UDOT on Vimeo.
I-15 will remain open without restrictions during peak hours. However, to avoid delays, please consider an alternate route, such as Legacy Parkway, or use FrontRunner for your daily commute. The Legacy Parkway truck restriction will remain in place except in an emergency situation when trucks may temporarily be allowed.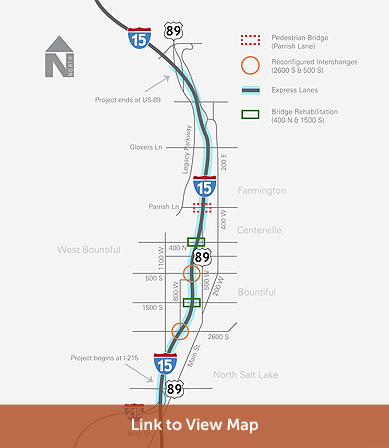 Getting Around
Expect I-15 congestion and delays during construction. Plan ahead and use alternate routes including Legacy Parkway, US-89 and Redwood Road or try transit options like
Frontrunner
to reduce delays. The cameras below show current traffic conditions on I-15 in South Davis County.
Route 1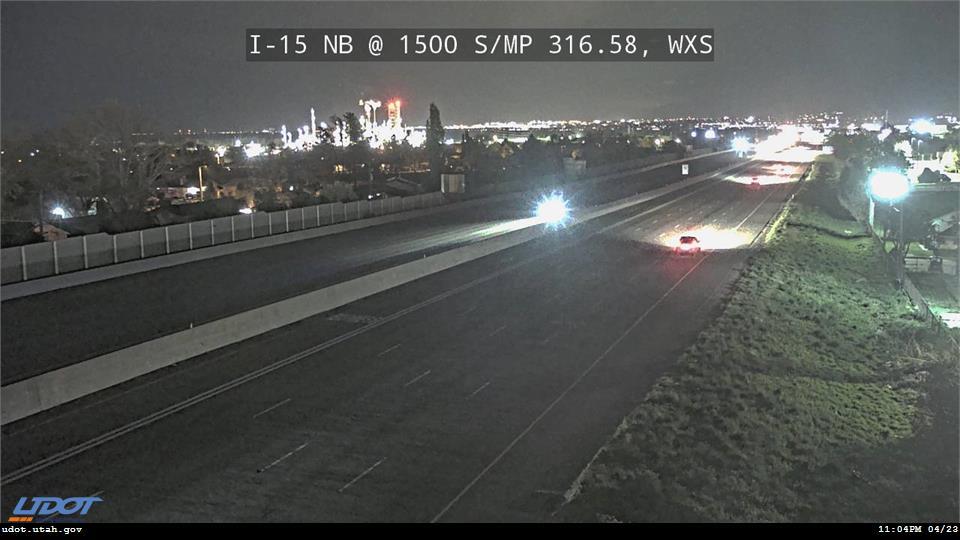 Route 2
Route 3
Route 4