A MESSAGE FROM UDOT
Moving To Orange
Utah's social distancing efforts to slow the spread of COVID-19 have been working. Forward progress won't be instant like flipping a switch. It'll be more like gradually moving a dial. A color-coded health guidance system has been developed by the State of Utah to guide health measurement system which can be different by each region, county, city, or community.
The work we do as a Department of Transportation is crucial to the state, now as much as ever. For that reason, it is important that we keep business moving forward. UDOT will continue to provide the services so many businesses and citizens depend on while also finding ways to protect the individuals and teams that provide those services. As of now, our offices are open, our projects are moving forward, our services and systems are available and above all, our employees and partners are doing their utmost to keep Utah moving.
On the U.S. 89 project, our goal is to balance the health and safety of our employees while meeting the needs of the traveling public by keeping our field operations going. We believe that the outdoor environment in which we regularly work, our ability to socially distance people, along with other proactive controls will help ensure a safe workplace and reduce the impact of COVID-19 on our employees and operations. In observance of State and Federal health recommendations, if members of the public have construction related questions, please do not approach team members in the field. Call our project hotline instead at 888-752-8789
U.S. 89 construction has begun with work at Oak Hills Drive, 200 North/400 North and Gordon Avenue. No impacts are expected to the U.S. 89 mainline until late March or April, when the weather is warmer and drier. Area traffic can expect impacts on side streets. Visit the "Residents" tab above for local traffic information.
Project Overview
The U.S. 89 project will improve safety and mobility on U.S. 89 and at connections with local cross streets by:
widening U.S. 89 to three lanes in each direction.
adding interchanges – bridges over U.S. 89 with on/off ramps – at 200 North/400 North, Oak Hills Drive, Gordon Avenue and Antelope Drive;
and adding bridges over U.S. 89 at Nicholls Road and Crestwood Road.
The project will also improve connections between U.S. 89 and Main Street, S.R. 193 and Interstate 84. Some sections of new frontage road will be constructed to improve access to existing frontage roads and local streets. This will help local traffic access the new interchanges and crossing efficiently. The frontage road system will also function as a signed bicycle route.
Contact Us
During construction the project team will begin sending an email update for areas north of Oak Hills Drive and an email for areas south of Oak Hills Drive. To sign up for one, or both, of the emails please visit our Contact Us page, call us at 888-752-8789 or email us89@utah.gov. More information can also be found by following our Facebook page.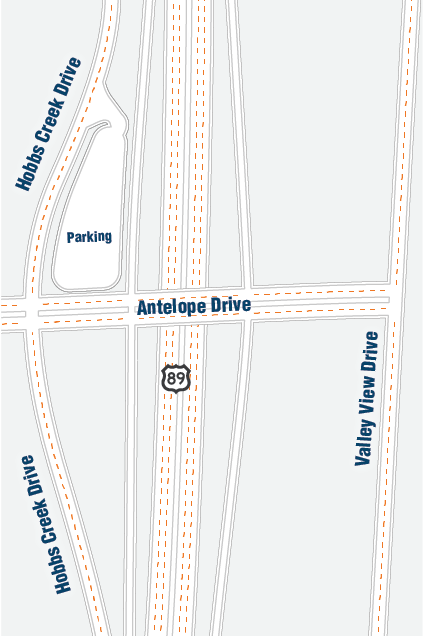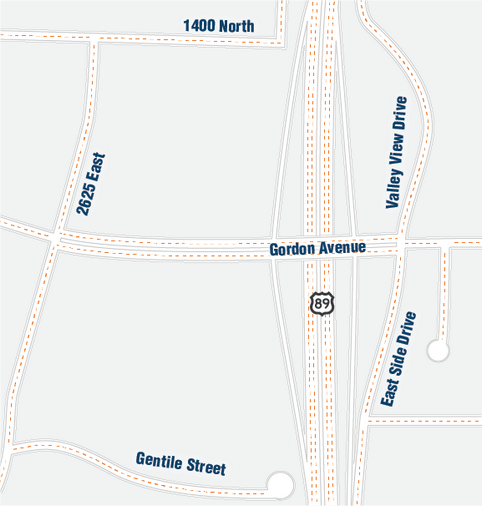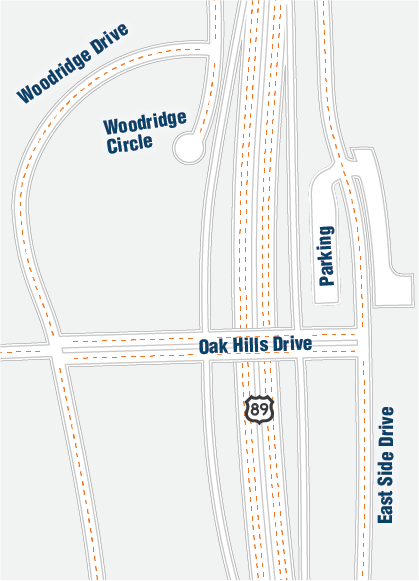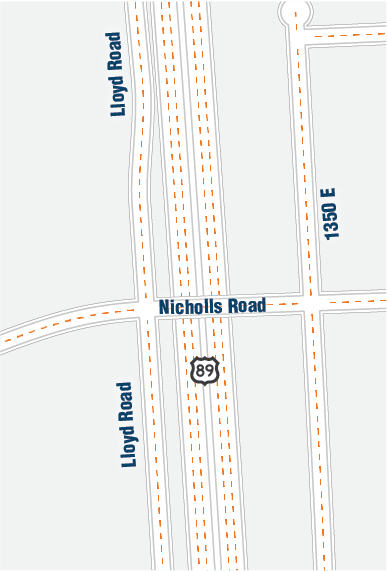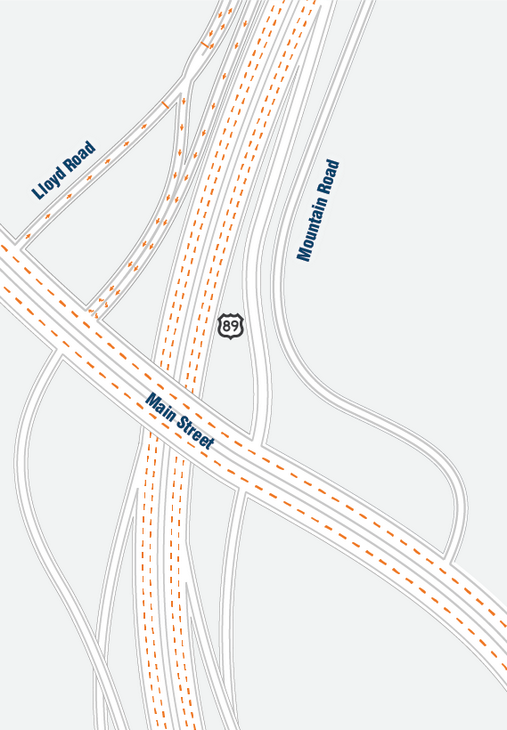 Hover over or tap a circle on the map for a detailed view.