Major construction underway on I-80 & I-215 project in Salt Lake

June 16, 2021
UDOT cautions Salt Lake drivers to expect new I-80 & I-215 traffic patterns

Major construction on the I-80 and I-215 Renewed project in Salt Lake is underway. Drivers should plan ahead, as their commute will look a little bit different on I-80 between 1300 East and 2300 East and on I-215 between 3300 South and 4500 South.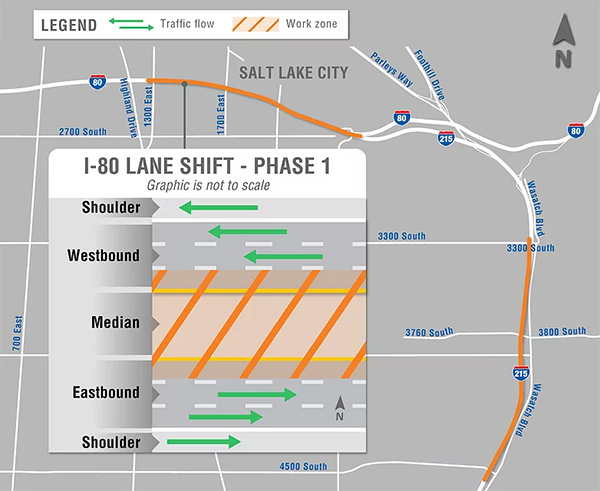 Traffic will move to the outside of the freeway so crews can work in the center of the road. This is just the first of several lane shifts planned for I-80 and I-215 over the course of the next two years.
These traffic shifts will help keep traffic moving during construction, allow crews to work in different areas of the road to reconstruct the pavement, and maximize their time to complete the project by the end of 2022.
Drivers can expect uneven pavement, including drainage grates in the shifted travel lanes, and should use caution and follow the posted speed limit through the work zone.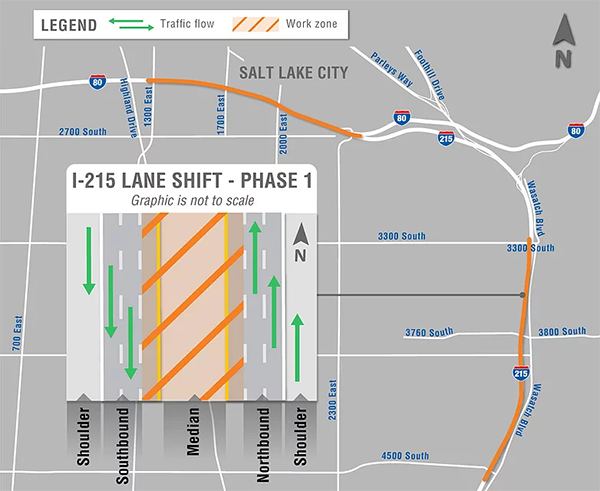 While all lanes will remain open during the morning and evening commutes, drivers should anticipate regular overnight and weekend lane closures on I-80 and on I-215 in east Salt Lake County. Plan ahead for delays during any lane closures and visit the UDOT Traffic website to see real-time impacts.

UDOT is repaving I-80 between 1300 East and 2300 East, and the I-215 east belt between 3300 South and 4500 South. A new lane will also be added to eastbound I-80 between 1300 East and 2300 East. UDOT is also reconstructing the bridges at 1300 East, 1700 East and 2000 East and widening the I-80 bridge over 2300 East. This will reduce travel delays and improve the condition of this major cross-country interstate.

Construction will continue through 2022. Construction schedules are weather-dependent and subject to change.

For the latest information on traffic restrictions during construction, visit the UDOT Traffic website or download the UDOT Traffic app for iPhone or Android. Follow UDOT on social media including Twitter, Facebook and Instagram. The public can also stay up to date on the project by signing up for real-time text alerts and email updates on the project website at udot.utah.gov/saltlakeeast.

Tags: I-215 & I-80 Renewed, Salt Lake East