State Route 121 to Temporarily Close for Drain Culvert Replacement

July 28, 2022
Drivers should plan ahead for road detours and travel delays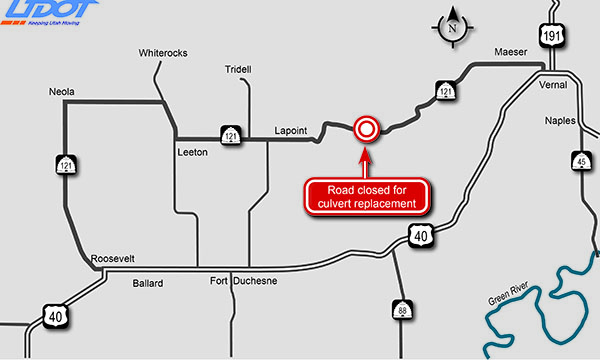 UDOT advises drivers to plan for significant travel delays and detours as part of a project to replace and upgrade a drain culvert under State Route 121 between Lapoint and Vernal. Beginning Aug. 1 – 13, crews will close the road between mileposts 23 and 39. Motorists can use US-40 as an alternate route. Once the culvert is installed, drivers should expect one-way traffic conditions with flaggers through mid-September as workers resurface the road in that area.
For questions regarding the project, please contact the project information team at 435-233-6646 or via email at udotregion3@utah.gov.
Construction activities are subject to change due to weather, equipment issues, or materials availability. For the latest information on traffic conditions across the state, visit the UDOT Traffic website or download the UDOT Traffic app for iPhone or Android.