UDOT to close southbound Legacy Parkway this weekend

January 19, 2023
First of several I-15 and Legacy Parkway closures scheduled for West Davis Highway bridge beam installation
The Utah Department of Transportation is scheduled to close southbound Legacy Parkway between Park Lane in Farmington and Parrish Lane in Centerville this weekend.
Southbound Legacy Parkway will be closed all weekend from Friday, Jan. 20, at 10 p.m. to Monday, Jan. 23, at 5 a.m. while crews place beams for a new bridge connecting I-15 with the new West Davis Highway. Drivers should expect delays during the day on Saturday and Sunday and should use I-15 as an alternate route.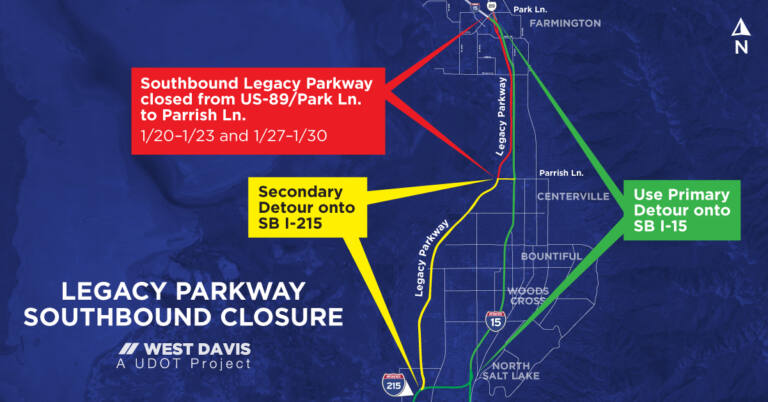 "This highway has been planned for decades to provide a new north/south road in western Davis County, connecting travelers with existing east/west roads as well as major routes like I-15 and Legacy Parkway," said Rex Harris, UDOT project director. "When we're done, it will help more people to safely get around the county, whether they're driving on the new road, or walking or cycling on the 10 miles of new trails we're building."
During this closure, crews will install eight steel bridge beams. The eight individual beams will be connected together using nearly 900 bolts to make a set of four longer beams – each 192 feet long, more than 6 feet tall and weighing about 99,000 pounds – and then the longer beams will be lifted into place over Legacy Parkway.
This is the first in a series of several overnight and weekend closures of Legacy Parkway and I-15 scheduled for the coming weeks as crews place the rest of the bridge beams. Southbound Legacy Parkway is scheduled to close again next weekend (Jan. 27-30), followed by a closure of northbound Legacy Parkway on Feb. 3-6. Other bridges to connect West Davis Highway with southbound I-15 and with northbound Legacy Parkway are also under construction, and beams for those bridges will be placed later this spring/summer.
The West Davis Highway is a new 16-mile, 4-lane divided highway under construction in western Davis County between I-15/Legacy Parkway in Farmington and the future extension of S.R. 193 in West Point. Six new interchanges will provide access to Farmington, Kaysville, Layton and Syracuse. The project also includes over 10 miles of new trails. Work began in 2021 and is scheduled for completion in 2024.
More information about the West Davis Highway is available on the project website at westdavis.udot.utah.gov, or in the project Facebook group. The project team can be reached by phone at 877-298-1991.
For the latest traffic, construction and weather information on highways statewide, visit udottraffic.utah.gov or download the UDOT Traffic mobile application.