Postponed: UDOT to close I-80 and 1300 East in Salt Lake City

March 27, 2023
The Utah Department of Transportation (UDOT) has postponed the I-80 between 700 East and Foothill Drive and 1300 East over I-80 closure scheduled for this weekend, March 30 – April 3.
The closures are tentatively scheduled for April 14 – 16 depending on weather.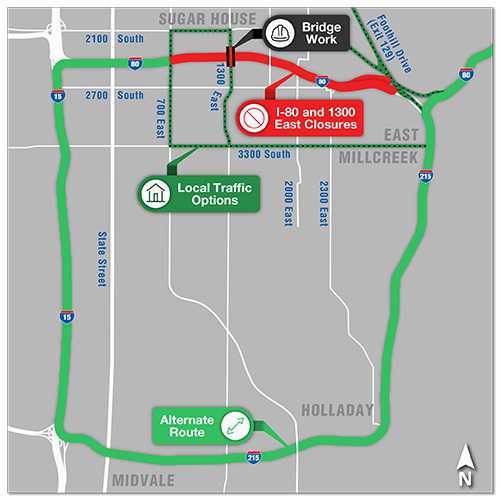 During these closures, drivers should use 700 East, I-15, and I-215 as alternate routes. Drivers should expect heavy travel delays, plan ahead, and follow posted signage during the closures.
The I-80 and I-215 Renewed project will improve I-80 between 1300 East and 2300 East and I-215 between 3300 South and 4500 South. The pavement will be replaced with new concrete throughout, and a new lane will be added to eastbound I-80. Additional improvements also include the reconstruction of the 1300 East and 1700 East bridges over I-80, reconstruction of the I-80 bridge over 2000 East, widening of the I-80 bridge over 2300 East, and improvements to existing bike and pedestrian crossings at I-80. Work began in 2021 and is scheduled for completion in 2023.
More information about the I-80 and I-215 Renewed Project is available on the project website at udot.utah.gov/saltlakeeast. For the latest traffic and construction information on highways statewide, visit udottraffic.utah.gov or download the UDOT Traffic mobile application.