Move it on Over

November 23, 2011
Using movable barrier in an urban construction zone helped UDOT improve safety and mobility while limiting the duration of construction.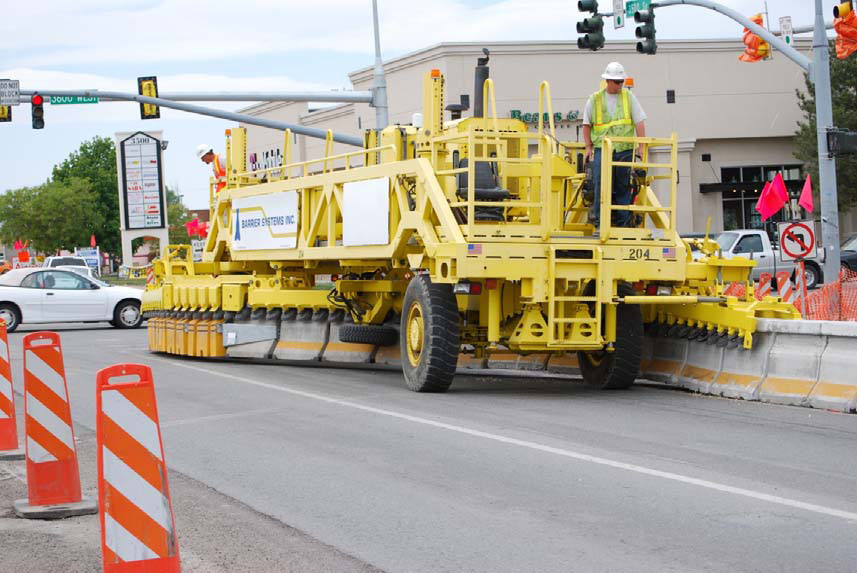 UDOT used moveable concrete barrier – a system that varies directional lane use – during reconstruction of 3500 South between 2700 West and Bangerter Highway in West Valley City. The busy roadway serves a business district and is a key east-west arterial, and movable barrier was used to provide more lanes for commuters during peak travel times.
Having it all – improved safety, better traffic flow and faster construction
The project widened the thoroughfare from two to three lanes in each direction and added two center-dedicated lanes for the Utah Transit Authority's first Bus Rapid Transit MAX route. While using moveable barrier is common on freeway construction projects – UDOT used a moveable barrier during reconstruction of I-80 through Salt Lake City – urban arterial use is less common.
During the 3500 South project, researcher Douglas Anderson, P.E. of T.Y. Lin International, documented barrier use, collected data and compiled the findings in a study for UDOT. Anderson formerly worked for UDOT as an Engineer for Research and Development and an Engineer for Planning. He has extensive experience evaluating and implementing new technology.
Anderson is pleased to report that using the barrier system improved safety, helped ease traffic flow and supported a faster construction schedule. The method Anderson used to collect and analyze data also provides a pattern for project managers to use when deciding if using moveable barrier is appropriate for other projects.
Project onset
Initially, the project maintenance of traffic plan called for two travel lanes in each direction. Work zone safety and work progression issues prompted UDOT Region Two Director Randy Park and the contractor, Granite Construction, to consider using moveable barrier. Adding the movable barrier meant the construction zone could be expanded by an entire lane width. Once the barrier system was put into operation, workers were provided additional separation from traffic and the construction schedule was accelerated.
Reducing crashes
Anderson used UDOT's Traffic and Safety database to find crash information specific to the corridor. Prior to reconstruction, between 250 to 260 crashes occurred per year. Forty to 50 of these crashes resulted in an injury to the driver or a passenger. About 80 to 90 left-turn crashes were reported in the corridor per year. Left-turn crashes are more likely to result in injuries than side-swipe or rear-end crashes, which generally lead to property damage only.
The barrier improved safety by eliminating left turns, except at major intersections, resulting in fewer crashes.  Data shows that about 20 to 25 left-turn crashes were eliminated during the time the moveable barrier was in operation. A conservative estimate shows that using the moveable barrier saved road users between $1.7 to 2.4 million by reducing crashes during construction.
Improving traffic flow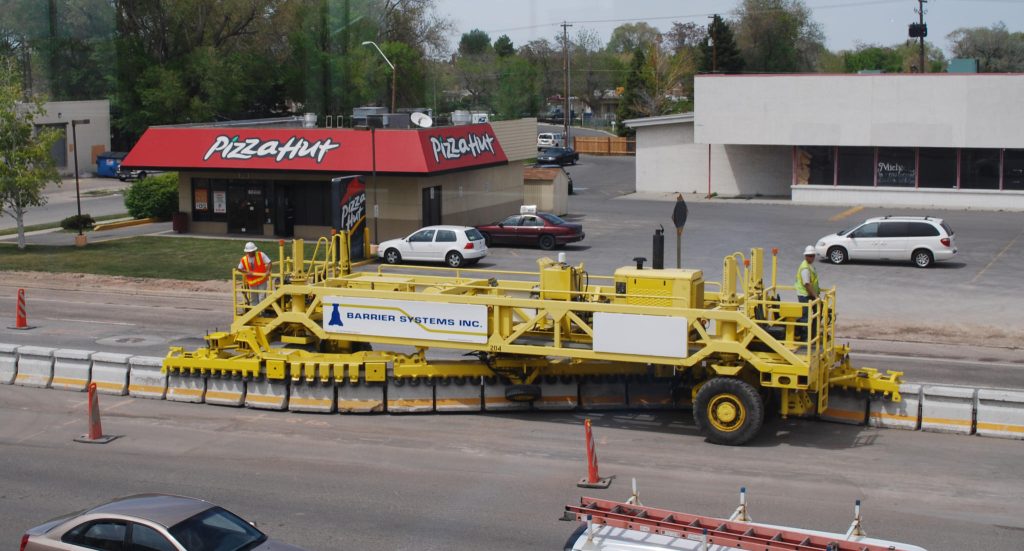 The barrier system was used to separate east-bound and west-bound travel lanes, and was moved daily to allow two lanes in the peak direction and one lane in the non-peak direction to safely accommodate the morning and evening commute. While traffic congestion was not improved during construction, using the moveable barrier allowed the traffic to be managed more effectively, explains Anderson. 
Speeding up construction
Reducing the duration of projects is one of the most important ways UDOT limits the inconvenience of construction on road users. Without the use of movable barrier the contractor would have needed to maintain two lanes to two in each direction. Using the moveable barrier provided a larger construction zone which was safer for workers. The enlarged space meant construction could progress more efficiently.

Construction was started in November of 2008 and was scheduled for completion during summer of 2010. Partly as a result of the barrier, the project was completed 7 months ahead of schedule, leaving road users and businesses with a wider, high functioning roadway free of excessive delay.

Award-winning results

The Federal Highway Administration and the Roadway Safety Foundation has recognized UDOT as a winner of the 2011 National Roadway Safety Award for using moveable barrier on the 3500 South reconstruction project. The annual award program honors "high achievers in the field of roadway safety" for using and documenting safety best-practices.

"The movable barrier allowed the contractor to strike a balance between traffic and construction needs," reads Anderson's final report. UDOT. Moveable barrier can be "very effective when used on a surface street," explains Anderson, when high traffic volume, many turning movements and a directional traffic split are characteristics of the roadway. UDOT's pioneering use of the innovative technology on an urban travel corridor will help UDOT and other departments of transportation employ the effective safety and construction mobility strategy on projects with similar characteristics.

Tags: barrier, road construction