Signs Extending National Bike Route Installed

October 25, 2016
Active Transportation Provides New Economic Opportunity for Rural Utah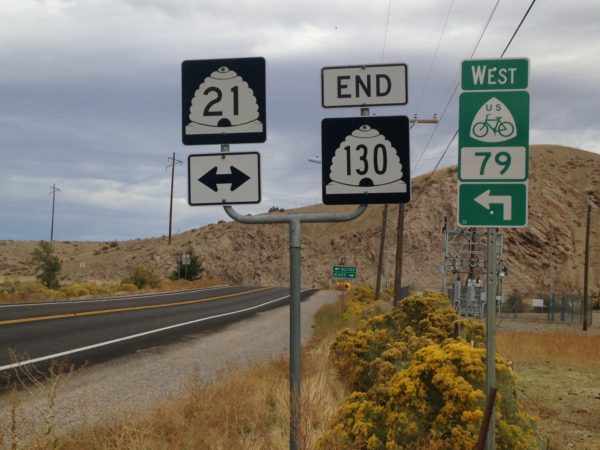 The description of Utah as the "Crossroads of the West" takes on new meaning with a project contracted through the Utah Department of Transportation (UDOT). But rather than the gold associated with the meeting of the rails, adventure seekers are now looking for green to be found along a national system of designated bike routes intended to connect the Atlantic to the Pacific.
U.S. Bicycle Routes 70 & 79 officially span Southern Utah winding through seven counties from Colorado to Nevada as a UDOT contractor finished new sign installations.  The two routes designated with the new green signs converge in Iron County while rural communities along the stretch are hoping their local economies can pick up some steam from the movement.
Bicycle Route 70 enters Utah on the eastern border west of Monticello on U.S. Highway 491, moves south to Blanding and then veers northwest passing near Natural Bridges National Monument, over the Colorado River at Hite's Crossing, eastward through Capitol Reef National Park, then bending south and west along All-American Road and Scenic Byway 12.  The route passes Bryce Canyon National Park before moving to Scenic Byway 14 and descending below Cedar Breaks National Monument.  Bicycle Route 79 enters from Nevada near the town of Garrison on State Route 21 extending southeast through Milford toward Cedar City.
The American Association of State Highway and Transportation Officials (AASHTO) established the United States Bicycle Route System (USBRS) in 1978 and approved a national-level corridor designation plan in 2008.  The system has gained input from the Federal Highways Administration (FHWA) and the Adventure Cycling Association among others. 
Tags: active transportation, national bike route