UDOT and local elected officials open final new interchange on U.S. 89

November 1, 2022
New Antelope Drive interchange in Layton improves access to and from the highway, provides a new connection between local neighborhoods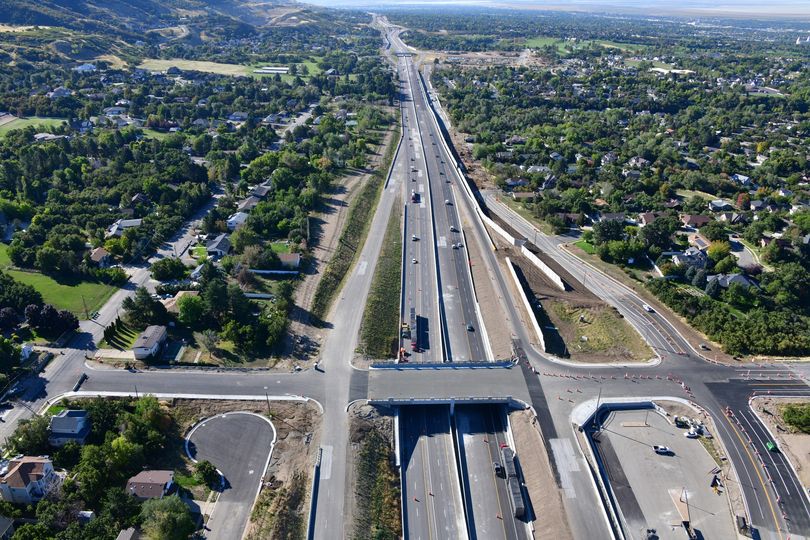 UDOT announced today that a new US-89 interchange at Antelope Drive in Layton is now open. This interchange provides a new crossing over US-89 to connect neighborhoods on both sides of the highway and will help traffic flow more safely and smoothly.
Utah Senate President Stuart Adams, Representative Stephen Handy, and Layton Mayor Joy Petro, along with Oak Hills Constructors (the US-89 contractor) and Layton city officials, joined UDOT Executive Director Carlos Braceras this morning to celebrate the opening of the new interchange. It is the fourth and final new interchange built as part of the current US-89 reconstruction in eastern Davis County. Interchanges at 400 North in Fruit Heights and Oak Hills Drive and Gordon Avenue in Layton opened last year.
"Our projects are being built to improve our transportation system for all users, whether they're in a car, on a bike, riding a motorcycle, or using a wheelchair," Braceras said. "This new interchange will help everyone in this area get where they want to go more safely and efficiently than they could before."
The US-89 highway project is the second-largest currently under construction in Utah. It includes the reconstruction and widening of a nine-mile section of the highway, along with building the four new interchanges. A new frontage road system was also created parallel to US-89 to improve access to local neighborhoods and provide a safer route for cyclists. In addition, three new pedestrian tunnels have been built under the highway to connect to future city and county trail expansions.
Work on the US-89 project continues with construction of new bridges at Nicholls Road in Fruit Heights and Crestwood Road in Layton, along with final paving of the highway and completion of sign, sidewalk and driveway installation. Construction on the project is scheduled for completion in late 2023.