UDOT releases transportation alternatives for I-15 from Farmington to Salt Lake City

November 10, 2022
Public invited to submit comments, participate in open houses as part of I-15 environmental process for I-15 Farmington to Salt Lake City EIS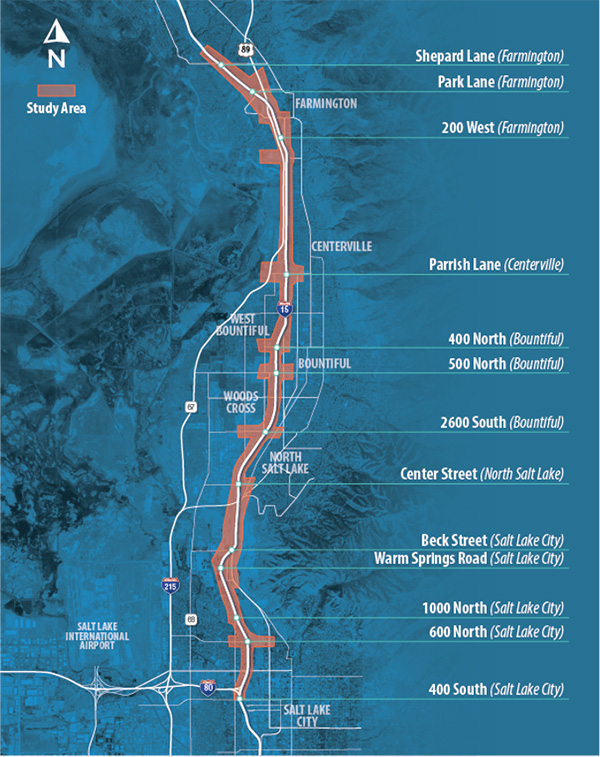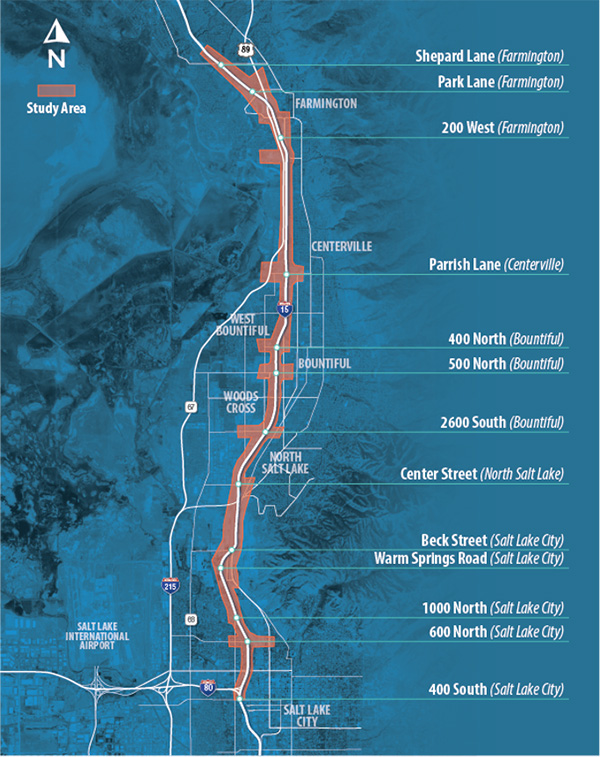 UDOT has identified transportation alternatives for I-15 between Farmington and Salt Lake City as part of the I-15 Environmental Impact Statement (EIS). UDOT invites the public to provide input and formal comments to the study team from Nov. 10, 2022 to Jan. 13, 2023 to help the study team develop and enhance these alternatives.
Using information gathered from technical analysis and public input, UDOT has crafted a range of potential solutions, known as alternatives, to make it easier for all users to get where they want to go, including drivers, walkers, bikers and transit users between Salt Lake City and Farmington. These alternatives include two options for improving traffic flow and enhancing safety on I-15; features at 17 different locations to make it easier for walkers, bikers and transit users to get around; and multiple options at eight interchanges to connect communities and improve health.
"Our aim is to strengthen the economy, connect communities, and improve health and mobility for everyone who uses the I-15 corridor," says Tiffany Pocock, UDOT I-15 project manager. "Comments, suggestions and feedback from the public are essential to accomplish these goals as we further analyze and recommend transportation solutions for this area of I-15."
At this stage, alternatives have been designed to a level where a basic footprint is defined, but the full level of potential impacts to businesses, properties, and the natural environment are not yet fully known. The current comment period is meant to gather feedback on proposed alternatives and help refine them for further analysis when specific impacts will be identified.
The public is invited to any of three open houses, where attendees will learn about the alternatives between 400 South in Salt Lake City and the US-89 interchange in Farmington and have the opportunity to ask questions and provide comments.
November 14 – Virtual Meeting, 5-7 p.m. (participation details found at i15eis.udot.utah.gov)
November 15 – Open House at Rose Park Elementary, 5-7 p.m. (1105 West 1000 North, Salt Lake City)
November 16 – Open House at South Davis Recreation Center, 5-7 p.m. (550 North 200 West, Bountiful)
Those who would like to learn more and provide feedback on the alternatives should visit i15eis.udot.utah.gov. Visitors may provide input using a variety of methods available at the study website, including the option to leave comments on an interactive map.