UDOT to begin construction of next phase to extend Vineyard Connector

February 10, 2023
Clearing and prep work anticipated to begin as early as Feb. 13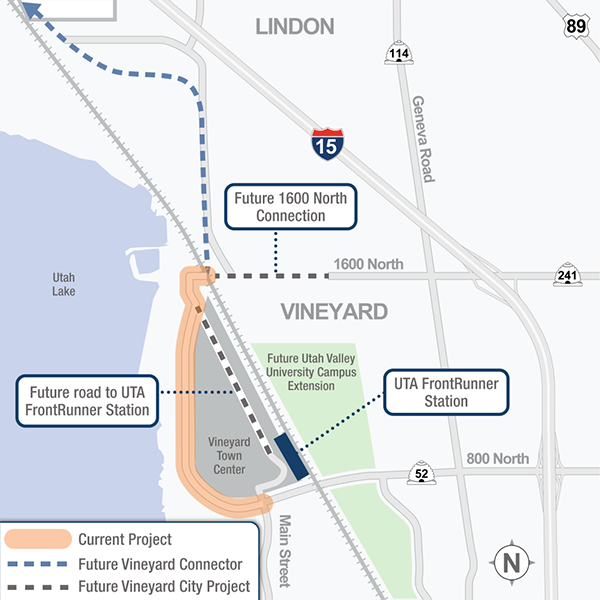 The Utah Department of Transportation (UDOT) announces the next phase of road construction to extend the Vineyard Connector will get underway as early as Monday, February 13. The road is a key corridor for Vineyard City and currently ends at the city's Main Street. With this project, UDOT will build the next two-lane connection from Main Street to the 1600 North area.
"We have been working closely with the city to design this project to make sure it is compatible with the development of their future town center. This new extension will enhance Vineyard City's transportation system, making it easier for residents and visitors to get where they want to go," said Tyrel Edwards, UDOT Project Manager.
During the next several weeks crews are scheduled to begin clearing the ground and installing or relocating utility lines. Once this work is complete, crews will begin building the road. The project is anticipated to be complete in fall 2023. For more information or to sign up for project updates, contact the project hotline at 385-853-VINE (8463), email the project team at vineyardconnector@utah.gov, or visit the website at udotinput.utah.gov/vineyardconnector.
The first section of the Vineyard Connector was completed in 2014 and connected the central area of the developing city to 800 North and Geneva Road in Orem. This next $15 million section will tie into the Main Street intersection and connect back to Vineyard Road near the Lindon Boar Harbor. Vineyard City is also working on a project to extend 1600 North, which will provide additional access into the city from the north.
Construction activities are subject to change due to weather, equipment issues, or materials availability. For the latest information on traffic conditions across the state, visit the UDOT Traffic website or download the UDOT Traffic app for iPhone or Android.