UDOT helps keep traffic signals clear of snow with new "heat tape"

March 7, 2023
Custom design, which is a first for any DOT nationwide, melts snow on traffic signals during winter weather
The Utah Department of Transportation (UDOT) has begun installing new heat tape devices on traffic signals statewide to help drivers see them clearly during heavy snowfall.
The heat tape, which sits on the underside of the hood/visor of individual signal lights, can be operated remotely by UDOT and integrates into existing traffic light wiring. The tape provides a heated cap for the signal light that melts away snow during severe weather.

"We have been looking at ways to prevent snow buildup on traffic signals for years now — it has been more of an issue since the change to brighter, more energy-efficient LED signal lights," said Mark Taylor, traffic signal operations engineer at UDOT. "After some discussions with our supplier, we've developed and are installing a solution that is both cost-effective and works well in most conditions."
Snow-covered signal lights may be a relatively new sight for some Utahns. Up until the mid 2000s, incandescent bulbs were used, and the heat from those lamps kept much of the snow at bay. But incandescent bulbs consumed nearly 20 times the electricity of LEDs, had to be changed every few years, and were less visible in many conditions.
"Until heat tape, the go-to method was to send out a technician with what is essentially a toilet bowl brush on a pole to clear the snow manually," Taylor said. "If the packed snow was too iced up, sometimes the technician would need to go up 20 feet in the air with an ice scraper and scrape the ice away from the signal head. Anytime we put someone up in the air or on the ground in traffic, we introduce risk — and manual clearing always takes time. Heat tape, on the other hand, is on and working constantly at the flip of a switch."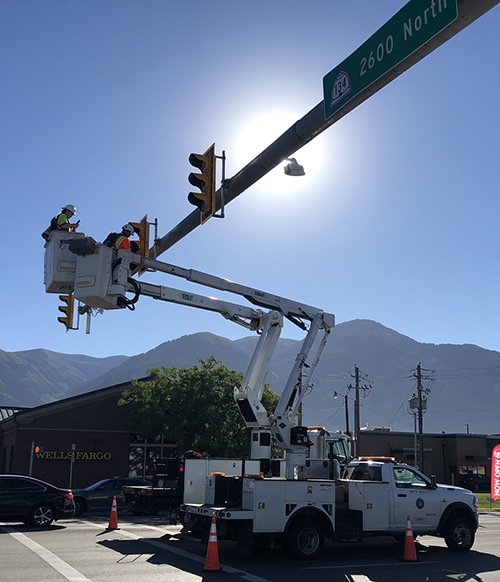 UDOT began experimenting with heat tape for traffic signals a few years ago. Originally, a more complex device that included a temperature and humidity sensor was considered, but the cost was much higher. UDOT's heat-tape application, which is a first for any DOT nationwide, is a simplified, no-frills design co-created with the supplier that is turned on remotely during severe weather, and shut off to save energy when not needed.
UDOT has installed the devices on more than 450 signals, with a focus on lights facing north and west that tend to get packed with snow. Active heat tape installations are in Cache, Davis, Utah, Salt Lake and Iron counties. The department has 67 intersections that are ready to go, and will continue the rollout throughout 2023 at intersections prone to snow buildup.