UDOT closing lanes on southbound I-15 in Nephi for pavement repairs and bridge maintenance

May 23, 2023
Drivers should adjust travel to minimize traffic delays while crews complete work to extend the life of the interstate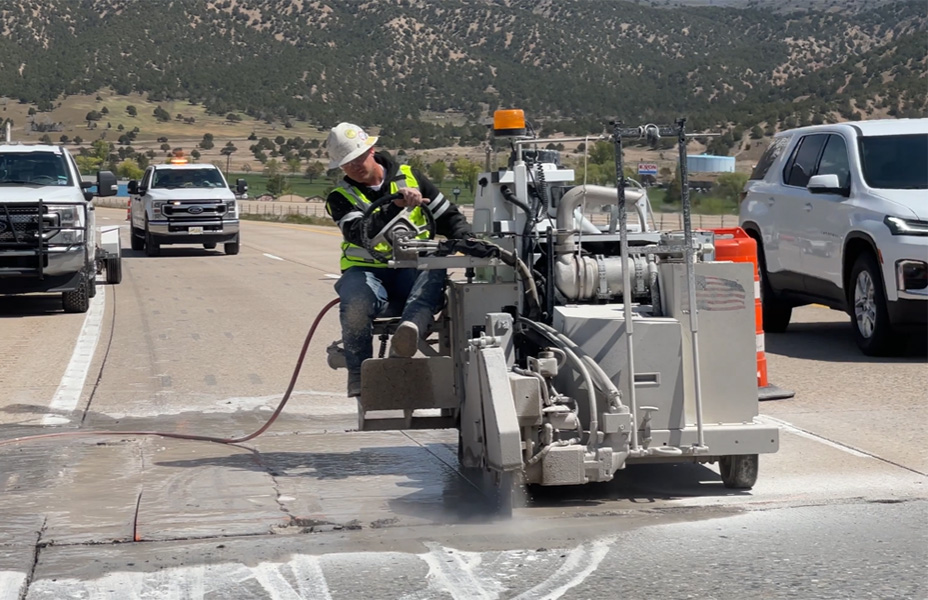 The Utah Department of Transportation (UDOT) advises drivers to plan for travel delays of 15-20 minutes or more on southbound I-15 in Nephi due to concrete pavement repairs and bridge maintenance this summer.
Southbound I-15 has been reduced to one lane from north of Exit 228 to south of Exit 222 (Main Street/SR-28) to repair or replace damaged concrete panels. The lane restrictions will be in effect 24 hours a day through Thursday, May 25. All lanes will be open for the Memorial Day holiday weekend from Friday, May 26, at 3 p.m. through Tuesday, May 30, at 5 a.m.
Following the Memorial Day weekend, both directions of I-15 will be reduced to one lane. To reduce delays, drivers should use the "zipper merge" when approaching the work zone and avoid travel during the heaviest traffic periods, from 1 p.m. to 7 p.m. each day.
"This is a really important project for us to accomplish, with the number of people who travel on I-15 in this area," said Darren Bunker, UDOT project manager. "We're completing this work to keep the interstate in good condition, so drivers can continue getting where they want to go."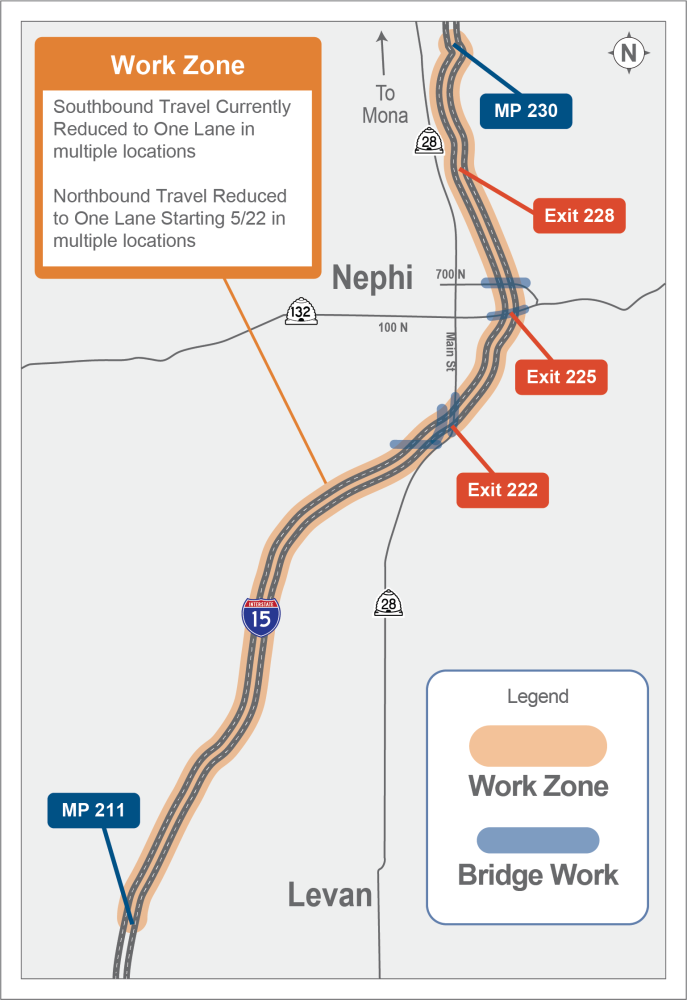 In addition to the pavement work, crews will also start work to repair or replace several bridge decks (driving surfaces) within the same area. To accommodate the bridge deck work and maintain local access, crews have closed the northbound I-15 off-ramp at the Nephi Main Street/SR-28 exit (Exit 222) and traffic has been diverted to a temporary off-ramp at Sheep Lane Drive, just south of the Main Street exit.
The speed limit is reduced to 60 mph through the work zone. Drivers should use caution when traveling through the area and plan extra travel time, avoiding weekday afternoons whenever possible.
This $17.8 million project is part of UDOT's efforts to preserve infrastructure and extend the life of the pavement and bridges across the state. With this work, crews will replace two bridge decks, repair nine others and repair or replace sections of concrete pavement along an 18-mile area of I-15 in Nephi. Construction is scheduled to continue through 2023.
For the latest information on traffic conditions across the state, visit the UDOT Traffic website or download the UDOT Traffic app for iPhone or Android.