UDOT launches new versions of UDOT Traffic website and mobile app

August 30, 2023
New features will help make it easier for everyone to get where they are going, no matter how they get there
The Utah Department of Transportation (UDOT) launched new versions of its traffic website and app today. The website – udottraffic.utah.gov – and corresponding UDOT Traffic app will allow users to more easily access real-time traffic conditions, construction project information, weather forecasts, and more.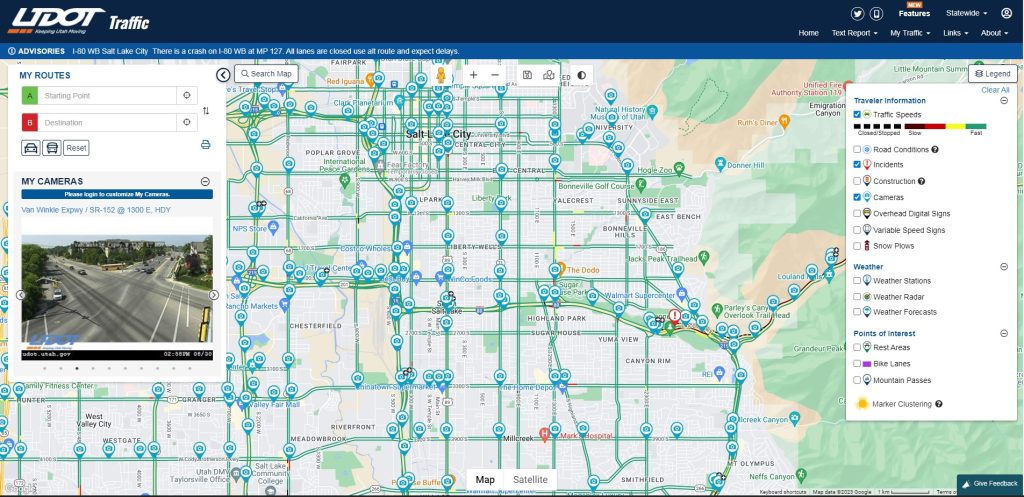 "The upgraded UDOT Traffic website and app will do an even better job of helping everyone stay informed about conditions on our highways and travel safely to their destination," said Troy Peterson, UDOT Director of Operations. "We're always working to create a safer and more efficient transportation system, and these improved tools are an important part of that effort."
The new website and app offer an improved interface and several customization options. Users can choose to use the site/app as a guest, or they can sign up with an email account. Those who sign up can customize their map interface and save their preferred routes, favorite traffic camera viewing options and map views. They can also opt in to receive incident alerts along their specified routes via email, text, or both.
Like the old website, users can see map layers that provide access to cameras and incidents, track snow plows during winter months, show bike routes and display overhead digital signs. The new site and app adds weather radar video loops, rest area locations, and access to larger still images from UDOT's more than 1,700 traffic cameras across the state. Dark mode is also available as well as Google Street View.
The new website and app include several other updated features:
Driving, transit and bike route information
Active incident alerts
Road construction information for UDOT projects statewide
ADA text report for incidents, overhead sign messages, and travel times
Drive Mode: an app feature that reads alert messages aloud
"These tools will give users more information about their travel routes in real time," Peterson added.
Existing UDOT Traffic app users will need to make sure the app is updated to take advantage of the new features. The old app, which was downloaded over 1.3 million times since it was created, will continue to work for a few more weeks and then will cease operation.
Both the site and app include tutorials about how to set up the customizable features.
Many elements impact road conditions including construction, crashes, congestion, fires and weather. UDOT provides information about statewide road conditions on the UDOT Traffic website and mobile app which supplies access to over 1,700 cameras, 200 message boards, and in-road and roadside sensors.
The UDOT Traffic website and app are updated by personnel at the Traffic Operations Center. The TOC is staffed 24 hours a day, seven days a week, and they work closely with law enforcement and on scene crews to assure the website and app are accurate and up-to-date.
The UDOT Traffic website and UDOT Traffic mobile app are the best place for drivers to get information on traffic, weather conditions, and construction for highways across the state. Drivers can also follow UDOT on social media including Twitter, Facebook, and Instagram.