Impacts to U.S. 89
Intermittent daytime closures during off-peak hours can be expected in either direction on U.S. 89 throughout the project duration while crews complete work items like barrier, wall panels and paint restriping.
The highway lighting systems at the bridges and off-ramp intersections at 400 North and Gordon Avenue interchange are now functional. The lights at the Oak Hills Drive interchange are expected to be functional by mid-March.
Landscaping
As spring approaches, many residents and property owners adjacent to U.S. 89 may begin to think about landscape repairs or finalization of items like curb, gutter, sidewalk and park strip. The project's primary focus remains on completing construction of the highway, Antelope Drive interchange and Nicholls Road and Crestwood Road bridges. Sidewalk, curb and gutter work are ongoing on the frontage roads in various locations through the end of this year. Landscaping activities are not planned to resume until fall and are limited.
Finish items like these could extend into 2023 when the project is scheduled for completion. If you have questions about impacts to your property, please feel free to contact the project team via email or the hotline below.
Weber Basin Water Conservancy District Customers should be prepared for a delayed irrigation season start that is not associated with or affected by project work. More information is available here: https://weberbasin.com/Drought.
Other irrigation company customers should contact their providers for more information.
Safety
With warmer weather, we also see an increase in people enjoying the outdoors. The project team would like your help in keeping the project safe by reminding you to stay out of the work zone. Please do not walk, roll, or ride on the bridges, in the work zone, or behind the barrels on the frontage roads, bridges and neighboring streets. U.S. 89 is closed to bicycles and pedestrians.
Crews are working to complete sidewalks and pedestrian access routes as concrete supplies allow. We appreciate your help in keeping everyone safe.
Nicholls Road
Crews are building a crossing under U.S. 89 at Baer Creek, with work on the east side of U.S. 89. Crews also continue installing retaining walls along U.S. 89 near Nicholls Road. Area residents may feel an increase in vibration or notice more activity and noise along the eastern work zone in this area through spring while the walls are constructed.
Crestwood Road
Crews are actively working in the intersection of the west frontage road at Crestwood Road. The west frontage road is closed to traffic between Mutton Hollow Road and Pinewood Lane. Local traffic access will be maintained to homes on the west frontage road between Crestwood Road and Elias Road.
One-way traffic operations are in place on the east frontage road near Crestwood Drive. Please watch for workers and obey posted signs or traffic signals.
East Frontage Road, Adams Canyon to North Village Drive:
As early as May 5, one-way traffic operations will be in place on the east frontage road north of Oak Hills Drive from Adams Canyon to North Village Drive while crews work alongside the roadway. Please pay attention to the traffic signal in place and wait for your turn to proceed through the one-way section.
Woodridge Drive:
Gentile Street Closed between Woodridge Drive, Gordon Avenue and Valley View Golf Course:
Gentile Street is now closed between the east side of the Valley View Golf Course, Gordon Avenue and the intersection with Woodridge Drive through early June while crews complete work activities.
Local traffic should use the Gordon Avenue or Oak Hills Drive interchanges as alternate accesses.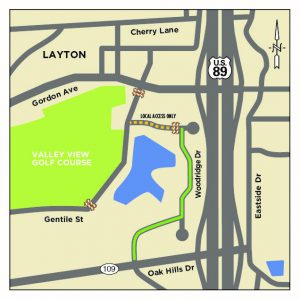 Area residents should be prepared for possible additional noise, activity and vibration.
Antelope Drive Area
Dry weather permitting, asphalt paving inside the work zone on U.S. 89 and near the new bridge is planned to begin early next week and occur daily through mid-May. Area residents can expect an increase of activity, noise, and possible vibration during the day.