Flight Scheduling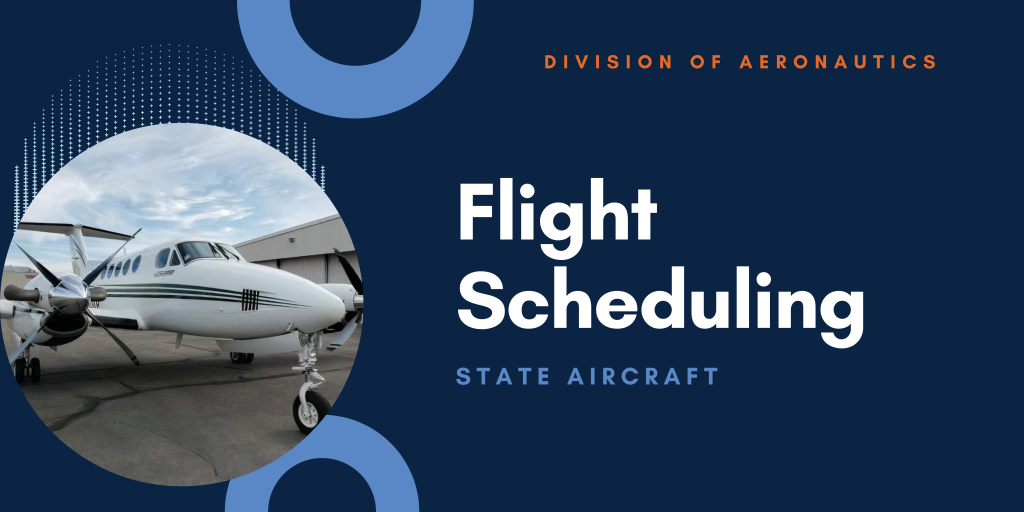 ---
Regular Flight Schedule
State employees on the Wasatch Front are able to reserve seats on state aircraft to: St. George, Moab, Cedar City, Vernal, Richfield, Price, Logan, and Kanab.
Flights are scheduled every Tuesday, Wednesday, and Thursday on a rotating basis. You may reserve one to eight seats as needed. Please consult our flight schedule as you schedule meetings across the state.
Flight rates are round-trip for each destination and do not fluctuate. Flight times range from 40 minutes – 1 hour outbound and always include same-day return.
Outgoing Departure time: 7:30 am Return Departure time: 4:00 pm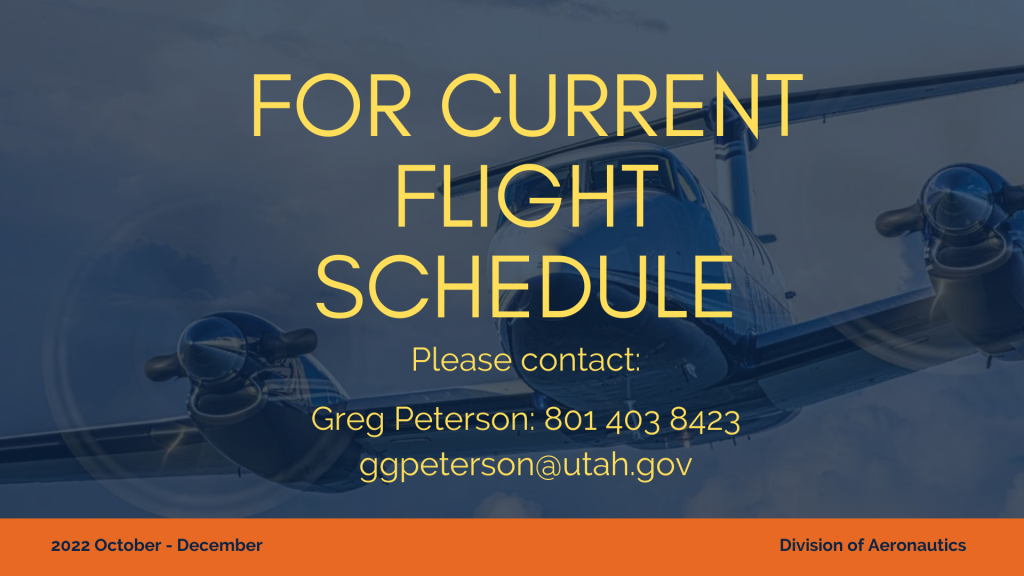 To book a flight reservation or help with other questions, please call or text Greg Peterson: 801-403-8423 ggpeterson@utah.gov
---
User Reviews
Recently my team utilized the Fly Utah program to attend meetings in Moab and Blanding in southeastern Utah. This program is a game changer for us as we strive to meet with our agency customers on a frequent basis. We were able to be more productive with our work week and save substantial costs on travel by utilizing Fly Utah. Historically, our team would require at least two days for this identical trip that would shorten our productivity and availability time in Salt Lake, require a vehicle, hotel rooms and per diem costs. The ability to consolidate the trip into one day also allows us to spend more time with our families. Additionally, the flight staff were professional and friendly, the reservation process was very simple, parking was very simple, the aircraft was well maintained, safe and comfortable and no TSA! Fly Utah is a tremendous asset for us and we plan to utilize the service frequently!

Andy Marr – Assistant Director, Division of Facilities Construction Management
---
I flew to Cedar with Greg and John for the first time on Wednesday. I was able to park my car for free and get right on the plane to leave, no going through TSA. The plane is nice and comfortable. Greg and John are great pilots and very friendly. They were able to take me safely through a storm on the way from Cedar. It was so nice to leave and be home the same day. I didn't have to drive for several hours to get to my destination and then be away from home for several days. The price for my flight was much less than the cost of gas and hotel stays. I highly recommend using this program!

Shawnery Mathis – Clinical Consultant for Secure Facilities
---
Aircraft Reservations
In addition to the regular flight schedule, the Division of Aeronautics can provide transportation for state officials upon request. Travel times and destinations are flexible and require 24 hour notice.
---
Frequently Asked Questions
Where will my flight depart from?
Salt Lake International Airport

Where do I park? How much does it cost?
You are able to park for FREE at the UDOT Division of Aeronautics. Our parking lot is located on the north side of the building:
135 North 2400 West
SLC, UT 84116

Do I have to show up early for TSA?
No TSA required! You simply park, walk in the door, and onto the airplane. We depart at 7:30 and ask that you arrive at 7:15. No hassle!

What is the billing process?
You will fill out a google form to save a seat. We collect your ELCID number at the time of booking and will use it to fill out your coding information. Your agency will be billed the amount for the round trip flight shortly after the date of the flight through the regular FINET process.

What if our agency doesn't use FINET?
We can add you as a customer and send a bill to you. Just email or call Greg Peterson to get the process started. (We need a few days to get it set up)
Greg Peterson
801-403-8423
ggpeterson@utah.gov

What about ground transportation when I land?
All the cities we serve have some form of ground transportation. Between rental cars, taxi services, and Uber/Lyft there are always ways of getting around once you arrive. Please see here for a list of ground transportation options for each airport.

Where do I tell people to pick me up at each airport?
Please see our list of airport addresses to share with your counterparts so they can meet you after landing. Departure and approximate arrival times are listed at the top of this page.

Are all flights round trip?
Yes, we want to have you home as if you had a regular work day. We depart at 7:30 every morning and are usually home by 5:00 or shortly thereafter. All departure and arrival times are listed at the top of this page.

Will you be adding additional routes in the future?
Yes, this program is demand driven. If you have travel needs to a city not served, please let Greg Peterson know at ggpeterson@utah.gov. This is a work in progress and your feedback is always welcome!

Is Salt Lake City a destination for those who work in the destination cities you serve?
As of right now, all flights originate in SLC with same day round trip service. However, we anticipate having flights from those to SLC in the near future. Please keep an eye on the website. Feel free to email Greg Peterson with any requests for additional cities or services you need. ggpeterson@utah.gov

How do I justify flying instead of driving?
It is actually less expensive to fly! See here for a list of cost comparisons for each city. All travel estimates are calculated using the average hotel costs for state travelers and mileage pricing for Utah state vehicles. Air travel also saves on wages and overtime paid for the additional drive time required for ground travel.
---