Innovation Station
Statewide Innovation Program
---
What is Innovation at UDOT?
This three minute video will get you started!
About the Innovation Program | Contact Information
UDOT's Statewide Innovation Program is led through the
Research and Innovation Division
via UDOT's larger
Technology and Innovation Group
. At UDOT, innovation efforts are an essential part of everyone's job. Many employees are hired and promoted based, in no small part, on their ability to influence innovative outcomes. This page is dedicated to continuing UDOT's proud tradition of being a world-class leader in the transportation innovations space. Please review this content to learn more about how UDOT continues to invest in a better tomorrow, and how you can accelerate these efforts by actively participating today!
Program Management
Winston Inoway
Innovation and Implementation Program Manager
801-455-3911
winoway@utah.gov
Quinten Klingonsmith
Innovation and Implementation Program Coordinator
801-386-0473
qklingonsmith@utah.gov
UDOT Innovation Process
Click the blueprint for an overview of UDOT's innovation process.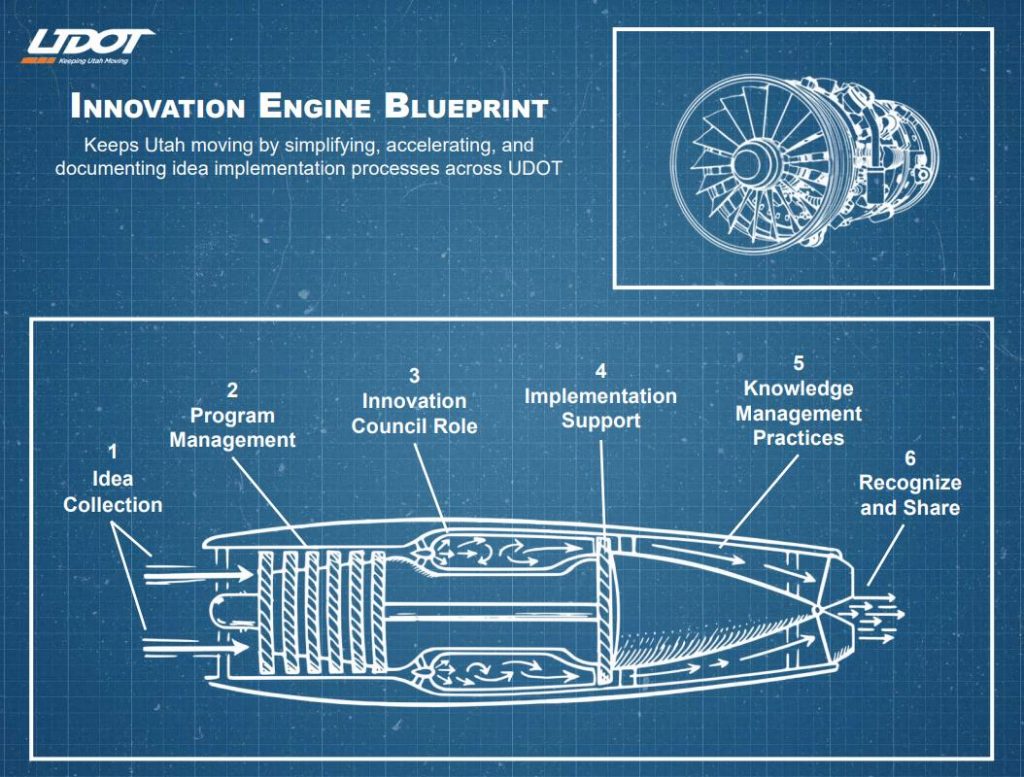 (click image above for details)
Submit an Idea OR Success Story!
Ideas Portal
UDOT employees can view a catalog of all ideas and innovations in the Ideas Portal.
Submitting Innovation Success Stories.
Use the
Implementation Success Story collection form
to share an implemented innovation. Sharing success stories is an entry point for that story being included in UDOT's annual Innovation & Efficiencies Report. Also, all success stories are automatically considered for UDOT's Innovation of the Year Awards.
Alternatively, Ideas Portal power users may submit success stories directly to the Ideas Portal. Follow the
Ideas Portal User Guide
to become an Ideas Portal power-user.
Finding Innovations in the Idea Portal.
The
Implementation Inventory Quick-Check Guide
is a simple one-page guide for Ideas Portal users on how to run a simple query to check what implementation success stories have already been submitted. With a few clicks you can learn which stories are queued for publication in the next annual Innovation and Efficiencies report. You can also quickly toggle between UDOT divisions to understand what content has already been collected from each division.
UDOT Innovation Station Videos
What is innovation at UDOT?
This three minute video will get you started!
Get inspired with these brief innovation example videos!
Innovation Award Winners
2022 UDOT Innovation of the Year Award: Incident Management Team
The 2022 winner of the
UDOT Innovation of the Year Award
is the Incident Management Team. Their use of drones to gather crash scene information helps clear accident scenes quicker and increases safety. UDOT congratulates Ben Goddard, Ben Kelly, Robert Bratton and the whole Incident Management Team for their pioneering work. Special thanks goes to the Utah Highway Patrol for their close partnership and great working relationship both out on the road and in the coordination, training and implementation of this new technology. The UDOT Aeronautics Division was also instrumental in getting this effort off the ground. Thanks for Keeping Utah Moving!
Spark Award – Inventive Innovation of 2022: Saddle Lift Tool for Sign Repair
The winner of the
2022 Spark Award for Inventive Innovation
is the crew of the Sign and Guardrail Shop, Shed 2444 in Region 2 for their creation of the saddle lift tool used to repair concrete barrier signs. UDOT congratulates Jayson Kesler, Dexter Forbush, Anthony Platner, Dylan Butters, Aaron Winn, and Robert Graham for their innovative tool that allows workers to repair signs more easily, at a lower cost, and most importantly in a safer way.
Enhance Award – Adaptive Innovation of 2022: Valve Body Location
UDOT is proud to announce the winners of the
2022 Enhance Award for Adaptive Innovation
. This award recognizes individuals and teams who creatively solve problems and make improvements using available resources. UDOT congratulates Mike Maez, David Devore and Jace Archuletta of the IMT Shop and Ben Kelly, Statewide IMT manager, winners of the 2022 Enhance Award for Adaptive Innovation. Their innovative efforts to reduce wheel lift maintenance saves money and improves safety for mechanics, IMT and the traveling public.
Flow Award for Innovative Process of 2022: ROW Water Rights Tracking System
The Right of Way Division wins the
2022 Flow Award
for the most innovative process improvement project. They developed new processes and systems to better manage UDOT's water rights and shares. Special thanks go to Charles Stormont, Darek Sagers, Ben Teran, Ryan Tiu, Christopher Meredith, Todd Sweeten, and Logan Riley for their innovative work on the Water Asset Tracking System.
Annual Innovation and Efficiencies Reports (current and previous)
2023 Innovation and Efficiencies Report
Full Report –
Check out some of the ground breaking innovation being done at UDOT. The
2023 Innovation and Efficiencies Full Report
features 60 implemented innovations that save time and money, improve safety, and Keep Utah Moving! Categories include maintenance, data visualization, digital workflow, community engagement and unmanned aerial systems.
Highlights Report –
This brief version of the
2023 Innovation and Efficiencies Highlight Report
focuses on high profile innovations, efficiencies and innovation award winners. It can be found in a printed version.
Previous Year Reports
*Reports are now published towards the end of the calendar year and do not receive broad circulation until the next calendar year. As a result, reports are now labeled in the year where they receive broad circulation. The 2020 report was not skipped, rather the 2021 report covers the preceding year which is 2020.
Innovation Program Dashboard
UDOT Innovation Council
Additional Resource Links
---
Other Research & Innovation Links