Rotational Engineer Program
The Utah Department of Transportation's Rotational Engineer Program is a long-term career development program. Preparing recent college graduates for professional licensure through practical work experience, we offer a career path designed for success.
Why UDOT's Rotational Engineer Program?
UDOT is one of the largest engineering organizations in Utah, offering rotational engineers: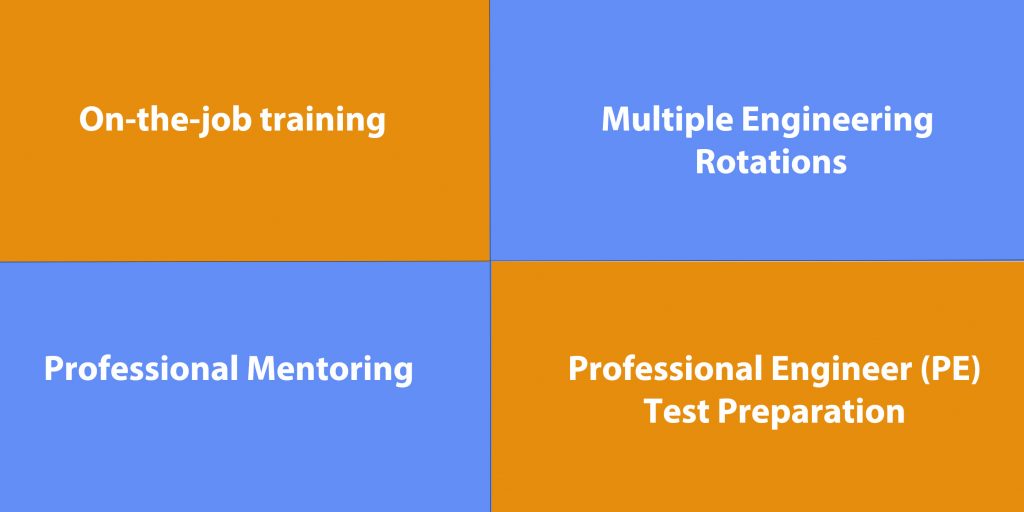 We encourage our engineers to discover the most suitable and interesting areas of civil engineering for them with many engineers finding long-term employment within UDOT in the area they like best.
Rotations
Construction
On the construction rotation you can expect to experience:
Working directly with Resident and Field Engineers
Understand and participate in inspection procedures and documentation
Reading and reviewing plans and specifications
Learn about and process change order requests
Working in a field lab and learn material testing procedures
Roadway Design
On the roadway design rotation you can expect to experience:
Learning the UDOT advertising process through the design network
Training and and use of MicroStation and InRoads CADD software
Learn the basics of modeling
Preparing estimates for projects
Plan creation and review
Design and package a project for advertisement
Maintenance
On the maintenance rotation you can expect to experience:
Understanding MMQA, feature inventory, and snow removal concepts
Working with maintenance crews
Learn general budgeting principles of roadway maintenance
Experiencing semi-annual inspections/reviews
Understanding the process for creating procurement contracts
Gather data and prioritize needs for various roadway features
Estimating quantities and cost for roadway features
Materials
On the materials rotation you can expect to experience:
Learning the principles and practices of Pavement Design
Participating in the verification of asphalt and concrete pavement designs
Learning and assisting with aggregate and pavement quality testing
Assisting in obtaining asphalt cores, soil samples, section histories, etc.
Reading and understanding standard specifications and their importance
How to Apply
We currently have two open positions for Rotational Engineers.
After you've applied, we will reach out and schedule an interview. Please come prepared with your resume and any questions you may have for us. After interviews for all qualified candidates are conducted, you'll be notified in a timely manner as to whether you were hired for the position.
For more information about the Rotational Engineer program, please contact Chris Dilley at cdilley@utah.gov.
Work/Life Balance
New engineers at UDOT rapidly gain experience and develop skills as they make an impact on Utah's transportation system. Rotational Engineers are engaged in the day-to-day work of the biggest and most exciting projects the department has to offer.
Other benefits include:
13 days annual leave earned per year.
13 days sick leave earned per year.
11 paid holidays per year.
401(k) match retirement saving program.
1.5 hours of paid exercise per week.
$5,200.00 per year educational assistance.
Monday-Thursday flexible schedules available in select areas.
Internships
Not quite ready for the Rotational Engineer program? UDOT hires interns in all facets of transportation. Check out our internship program to see if it's a good fit for you.