How do traffic signals work?
Love green lights? So does UDOT traffic engineers.
We all like green lights. That's why UDOT traffic engineers are doing everything they can to make sure we hit as many as possible. By continually pioneering new technology, and working 24/7 to coordinate traffic flow, they're always working to ensure your drive is quicker and smoother. But you can help too—by following the driving tips below.
Drive the speed limit. (It's the most effective way to hit the synchronized green lights.)
Drive on major corridors during peak commute times (Bangerter Highway, 700 East, State Street, Redwood Road, 12300 South, 11400 South, SR-193, SR-126 and Antelope Drive). The lights are synchronized to maximize the system for you and the community, giving us all more green lights.
Know before you go. Check the UDOT traffic app or UDOT Traffic website for the latest road conditions.
And, if you ever encounter a signal that you feel isn't working properly let us know using our Click 'n Fix app or website.
Yield on Yellow!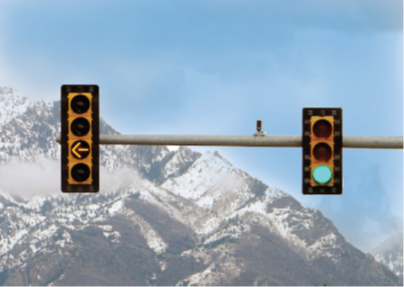 Explanation of the flashing yellow arrow.
The Utah Department of Transportation (UDOT) and several jurisdictions throughout Utah are among the first in the United States to implement new flashing left turn arrows. These new signals will be installed in place of the old, simple circular green signals, yet the meaning is still the same: You may proceed into the intersection, but before making your left turn you must yield to oncoming traffic until your turn can be made safely.
As always, a green left turn arrow means you may make a protected left turn as oncoming traffic will be stopped. However, the flashing yellow left arrow indicates that oncoming traffic is not stopping and that indicates that oncoming traffic is not stopping and that you may make your left turn only after yielding and when it is safe to do so. Just as before, a steady yellow arrow means the red is close behind while the steady red arrow means stop,
How traffic signal coordination works.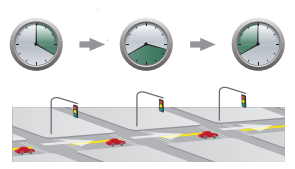 For traffic signals along a street to remain synchronized, they must have the same cycle length, which is the time it takes a signal to go from green to yellow to red and then back to green. Cycle lengths typically range from one to two minutes.
In order to minimize stops, signals are coordinated to provide progression for vehicles, which means the light turns green prior to their approach. Progression is determined by the "offset" of the green light, or the time it takes to travel between intersections.
While traffic signal coordination cannot entirely eliminate red lights, it is effective in reducing stops and delays and improving the flow of traffic on major streets.
Studies conducted by the Utah Department of Transportation (UDOT) and other national entities indicate that traffic signal coordination can reduce stops, delays, gasoline consumption and air pollution emissions by up to 25%.